JVC XL V1
Of ik even naar een JVC XL V1 cd speler wil kijken, ik vind hem prachtig
– CD lader gaat moeizaam open en dicht
– Audio onderbrekingen en klinkt muf. lijkt hoog te missen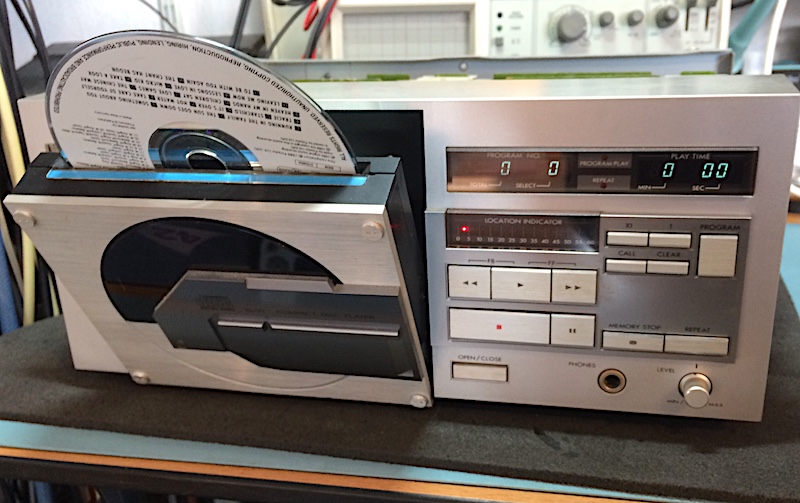 Harrie – "mooie CD-speler ! dat krijg jij wel weer gerepareerd, succes"
Mikey – "Apart ding nooit eerder gezien moest er even op googlen zag dat die van 1983 was al een echt oudje dus"
Hoewie Loewie – "Prachtige speler! Zet 'm op Bram"
Dateq – "Mooie speler

De eerste generatie verticale cd spelers.
Clone van de Hitachi DA1000 en Denon. Mooie spelers waar het cdtje netjes naar beneden zakt bij t sluiten van het deurtje. Vaak last van gehard vet en elco's die sterk in waardes zijn gedaald.
Vervang gelijk de belangrijkste elco's en reinig het railsje van de laser.
Deze spelers zitten propvol bedrading/printjes en zijn zeer lastig te demonteren.
Mooiste verticale spelers vind ik toch wel de Pioneer PD-1 en de Mitsubischi DP-101."
De speler heeft 1 hoofdprint op de bodem en daar staan 4 printen haaks op met connectors.
Als ik het zo bekijk is dat behoorlijk makkelijk te demonteren.
Best wel stoffig..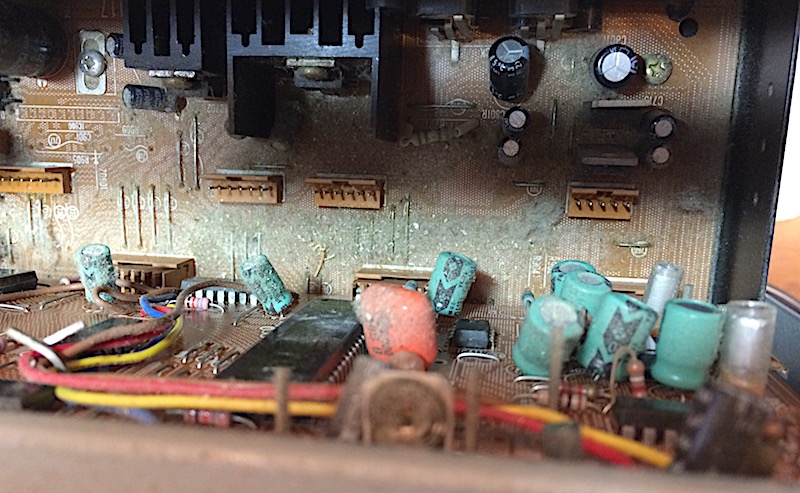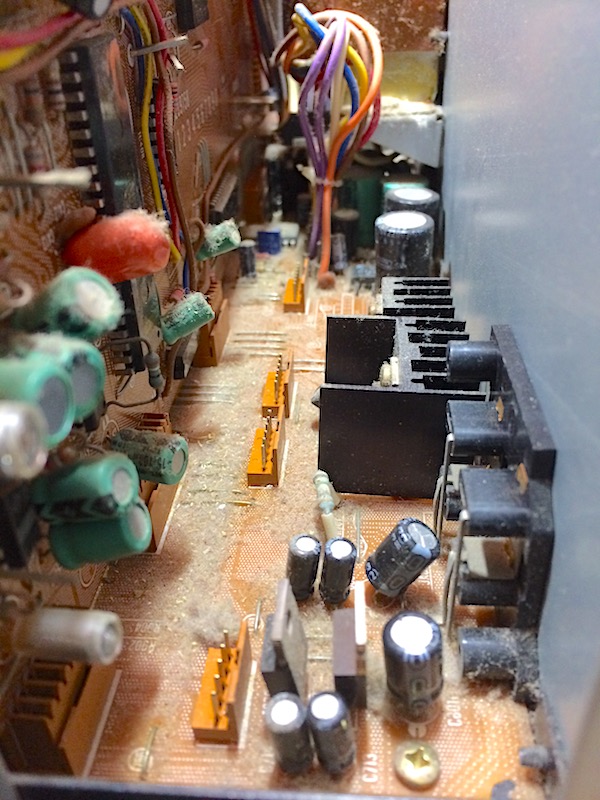 Heb hem even getest en speelt best goed als ie speelt , voor z'n oud ding.
Leest de Table of Content als een speer..
.
De audio onderbreking lijkt ergens een losse soldering..als ik de audio print een beetje beweeg dan werken beide kanalen..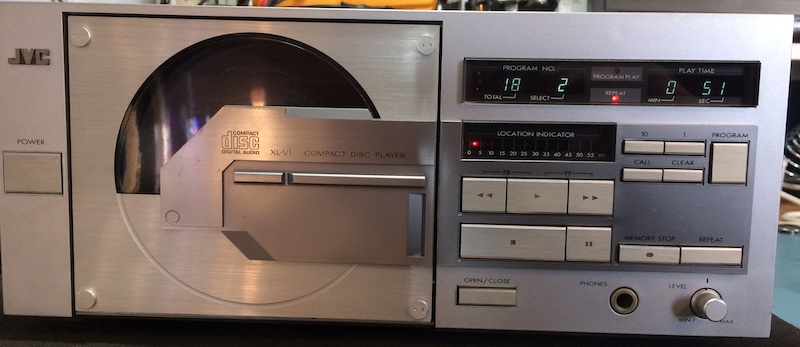 Vandaag maar begonnen met demontage van de speler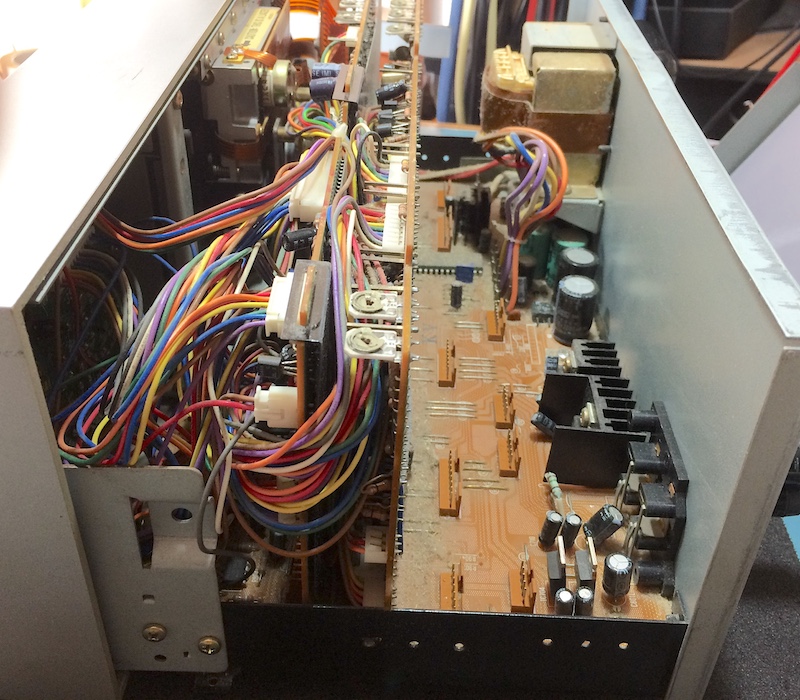 DAC Board en Audio-board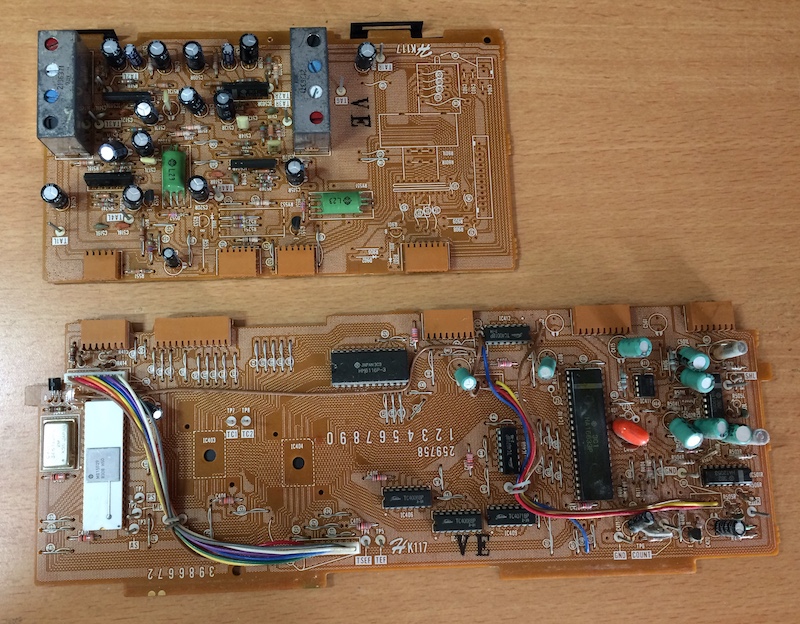 De print met voeding en koptelefoon versterker.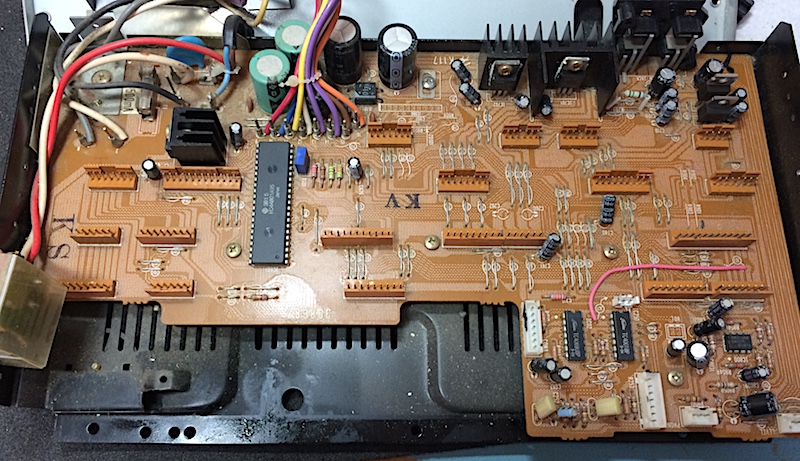 Best stoffig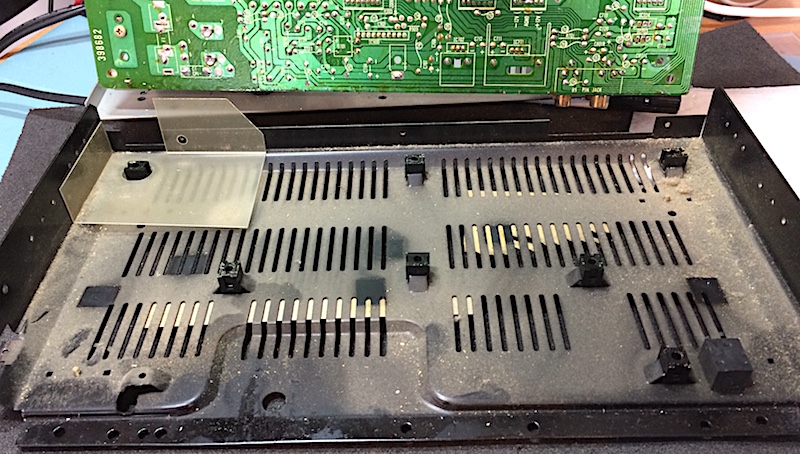 Sopje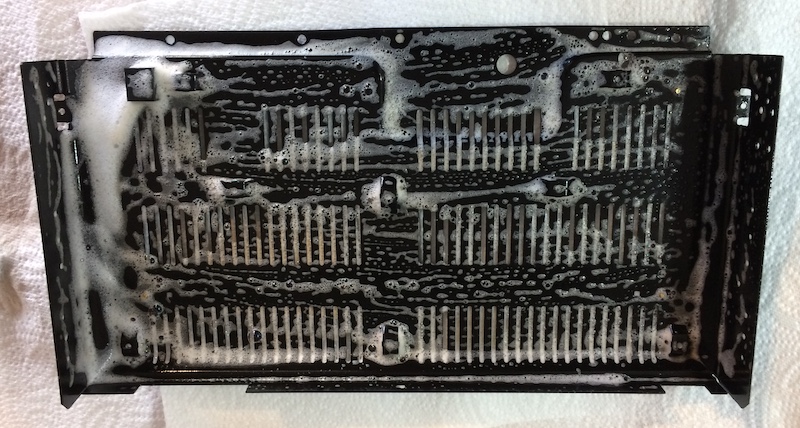 de 7812 en 7912 voor de analoge voeding staan een beetje los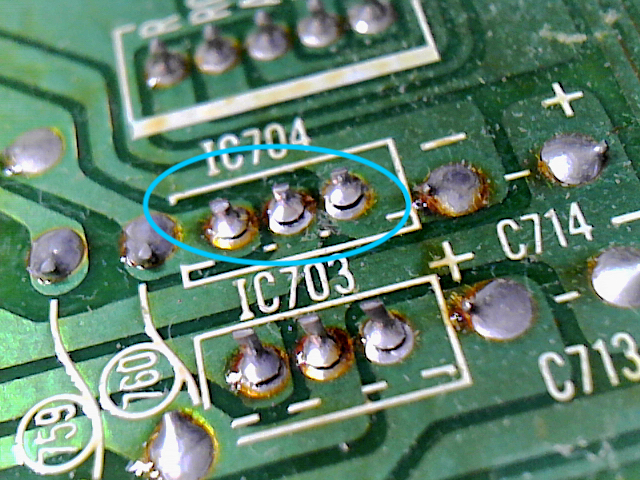 Ook diverse losse kontakten bij alle printconnectors, gaan we dus met loepje allemaal controleren
ruim twintig op mainboard…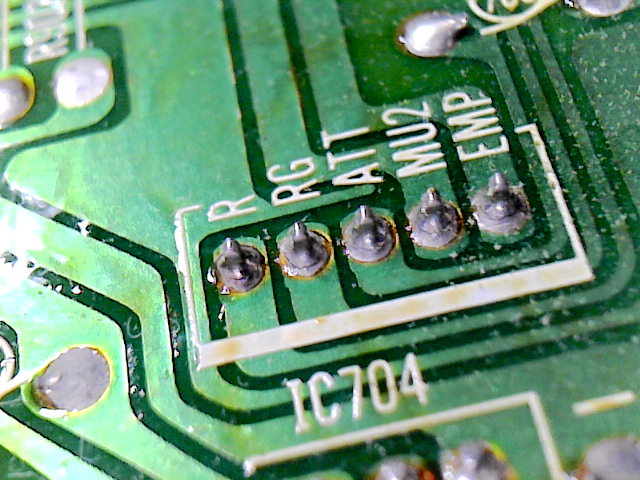 mea – "Mooi opgebouwd apparaat, toch weer heel anders dan Philips of Sony. Ziet er inderdaad uit als een Hitachi (geen kloon, gewoon parallelproductie)."
Sjonny – "Oh vet,eeuh stoffig.
Zijn weer helemaal hip ,yep ook dit soort gaan de prijzen weer helumaal skyhigh als ik t mag geloven.
Blijven toch steeds hele mooie spelers jammer dat dit soort eigenlijk niet meer gemaakt worden (denk ik)
Zo 1 in zilver net zo breed als de lab set.  Zou zeker niet on aardig zijn.
heb laatst nog bij een klant een aristona torenentje gezien waar zoiets nog in zat, best grappig.
Maar idd dat gaat helemaal goed komen Dr cd fixt m weer. suc7 "
Nog twee printen…met veel draadjes..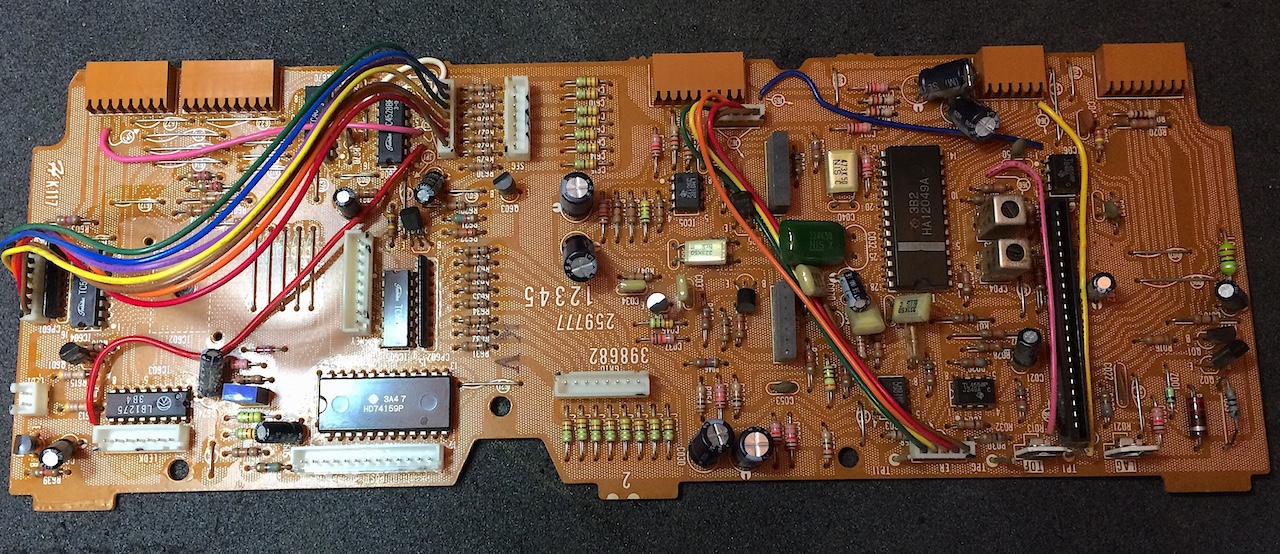 Bodem weer mooi schoon.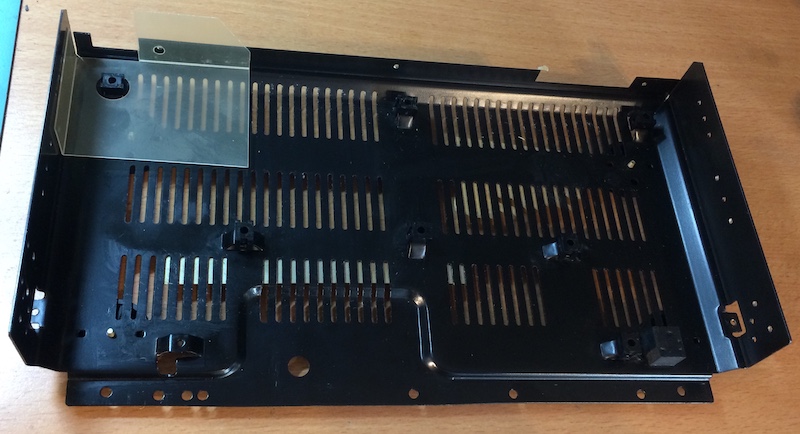 Alle connectors nagekeken op slechte solderingen
veel connectors en nieuwe elfo'tje..
Daarna print weer vast op bodemplaat en even de voedingspenning gecheckt, allemaal prima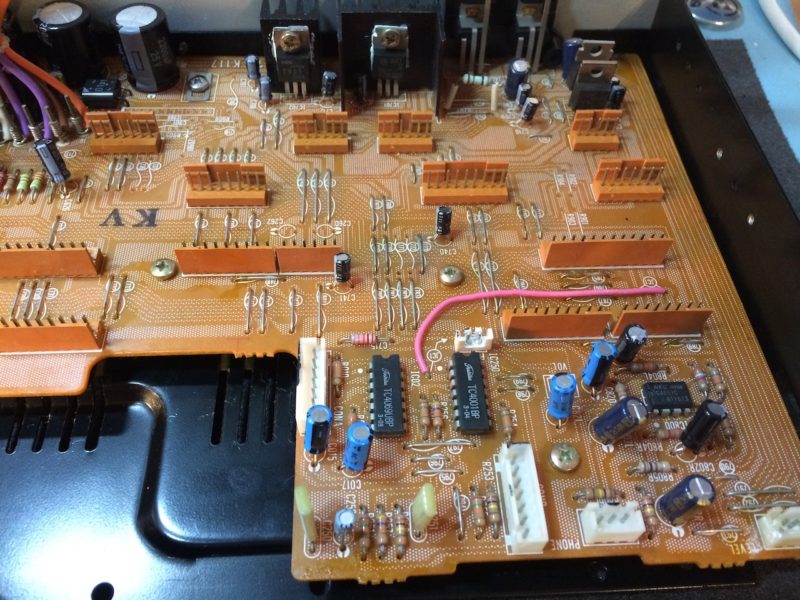 Dan gaan we de insteek printen maar controleren op verouderde solderingen en voorzien nieuwe elko's
Audio boardje ook onderhanden genomen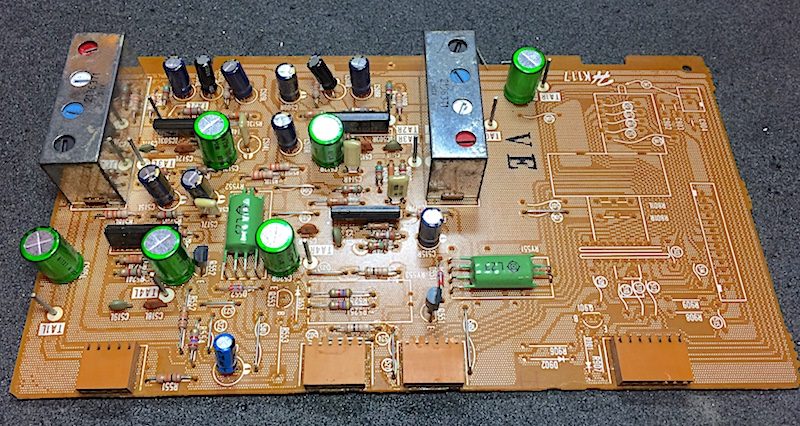 We gaan hem weer netjes in elkaar zetten…
Nog ruzie gehad met limiet schakelaar, in plaats van goed contact maken was er een weerstand van 1KOhm.
Hierdoor bleef de klep niet openstaan bij eject , ging gelijk weerdicht als je een cd wilde uitwerpen
Ding uit elkaar gehaald en schoon gemaakt.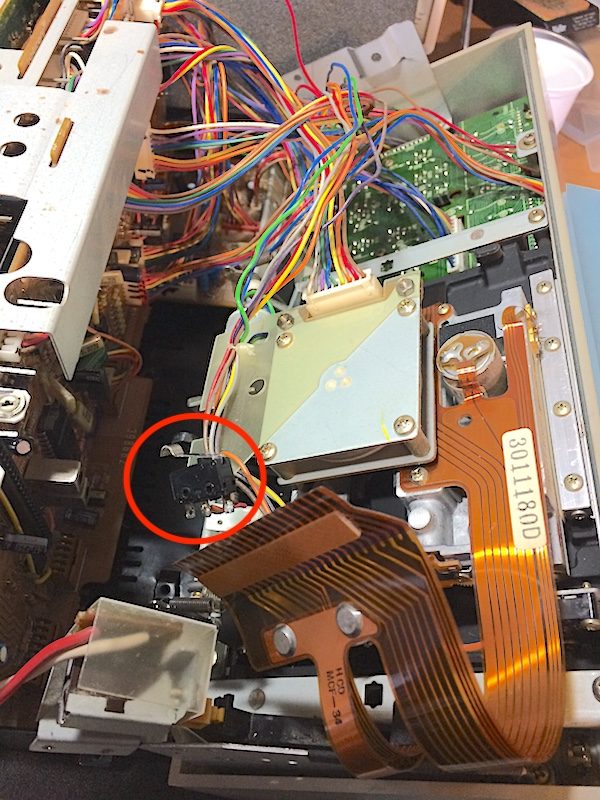 Maar hij is klaar en speelt..
Toch weer uurtje of 10 mee bezig geweest, maar Ik ga hem zeker op mijn verlanglijstje zetten,
wat een leuk ding.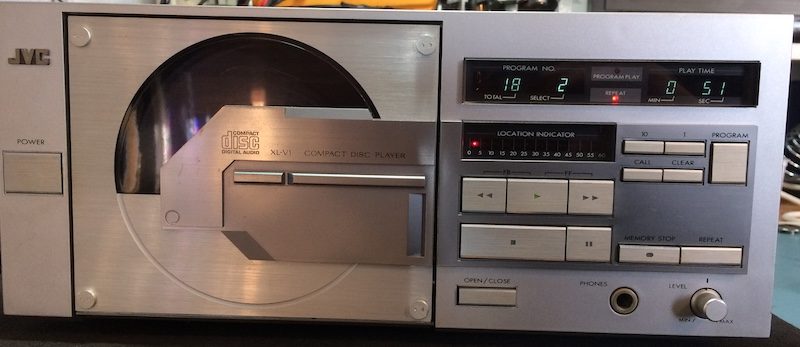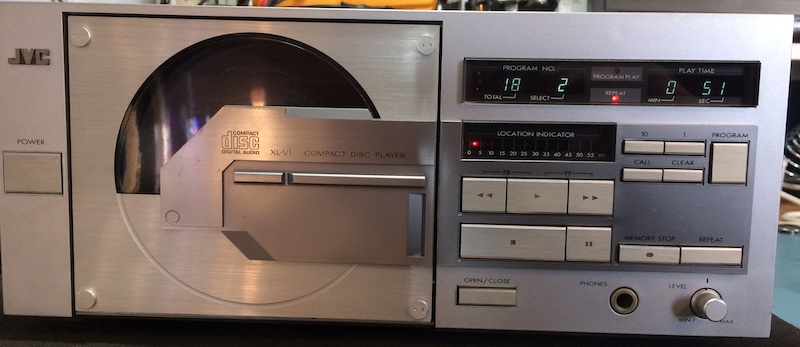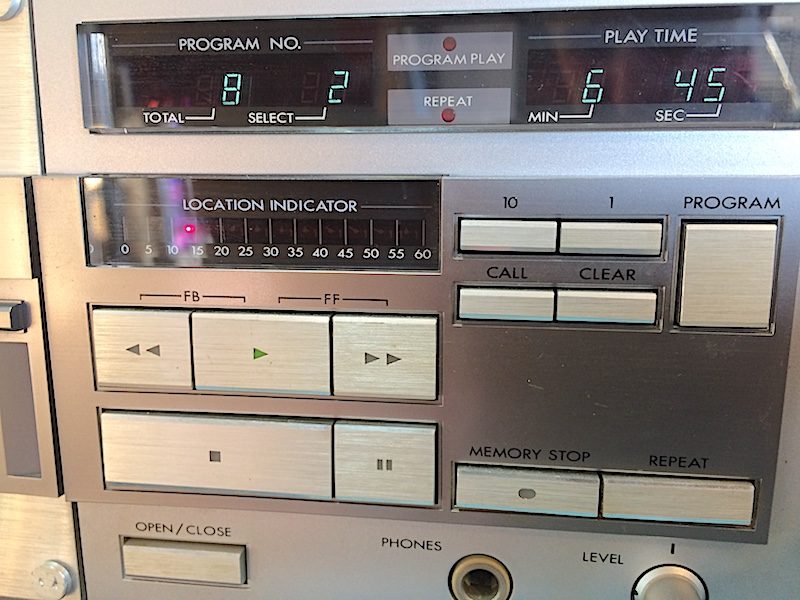 ChromeMaximaII – "Philips of niet, het maakt ook eigenlijk allemaal niet uit hè Bram, je hebt het weer mooi geflikt. Inderdaad een exemplaar met hoog 'hebben-gehalte' "
mae – "Ik heb met veel kunst- en vliegwerk zelfs nog een link met Philips gevonden. Er zitten dezelfde Hitachi rietrelais in als in de Philips SX6290 voorversterker"
Hoewie Lowie – "Weer een mooie klus geklaard Bram."
Philips / Sony uitvinding
Veel info is te vinden op vintage-audio-laser.com
Bapakpinter – ""Veel info is te vinden op vintage-audio-laser.com "
Met grote interesse die Franse doc. gelezen en bekeken.
Mijn Frans is niet zo goed maar voldoende, een technisch Frans woordenboek erbij.
Wat zit die electronica en mechanica goed in elkaar.  Ruud"